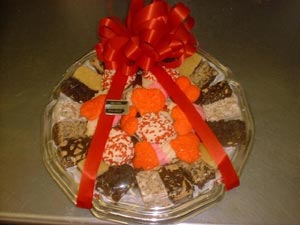 Looking for a unique gift? Check out the gift trays of scrumptious goodies available at Larson's Bakery. We offer three sizes of trays filled with assorted bars or assorted cookies or a combination of both bars and cookies. Gift trays can be ordered anytime during the year. If you need more than five gift trays, though, you'll need to order ahead.
Small gift trays
Medium gift trays
Large gift trays
Larson's Bakery uses only fresh ingredients in our products and NO preservatives. When you take home any of our delicious treats, make sure they are consumed within three or four days.
---
Valentine's Day

Heart shaped cakes
Heart shaped cookies (all sizes)
St. Patrick's Day

Shamrock cookies
Pot o' Gold cake
Irish soda bread
Irish cream cake
Easter

Easter basket (basket filled with cookies and candy)
Large & small filled decorated cake egg
Hot Cross Buns
Chick, bunny, egg & lamb cookies
Bunny face cake
Easter Basket Cake
Halloween

Ghostly cakes, pumpkin cakes & pies
Decorated cupcakes

Cats, bats, pumpkin, owl, & ghost decorated cookies
Thanksgiving

Pumpkin pies
Mincemeat pies
Turkey cookies
Christmas

Larson's Bakery offers so many Christmas treats that we had to put them on their own page.
Larson's Bakery, Deli and Coffee Bar
13411 SE Mill Plain Blvd.
Vancouver, WA 98684
Phone:360-253-4555
FAX: 360-882-6690

Serving the Vancouver (USA), Washington,
and Portland, Oregon, area
Home | Cakes | Wedding Cakes | Gift Trays | Danish Pastries
Cookies, Pies and more | Seasonal | Deli Menu | Coffee Bar Menu
Contact Us | Links