Serving the Vancouver, WA / Portland, OR area
Get your Christmas bakery orders in early--do it today!

Larson's Bakery will be open on Christmas Eve, December 24 from 6am until 4:30pm (an earlier than normal closing). It will be very difficult to reach us by telephone on Christmas Eve.
We will be closed on December 25 & 26.
Have a wonderful holiday season!
Christmas Time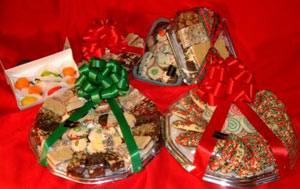 photo by Howard Wilson
During Christmas, gift trays are available in the bakery everyday so you can just stop by and pick up a gift tray or two. If you need more than five gift trays, though, you'll need to order ahead.
| | |
| --- | --- |
| photo by Howard Wilson | photo by Howard Wilson |
| | |
| --- | --- |
| Yule log | Call for pricing. |
| Stollen bread | Call for pricing. |
| Fruit Cake | Call for pricing. |
| Christmas tree danish | Call for pricing. |
| Santa Faced Cake | Call for pricing. |
| Pumpkin Pie | Call for pricing. |
| Pumpkin Pie with Whipped Cream | Call for pricing. |
| Mincemeat Pie | Call for pricing. |
| Pumpkin Cheesecake | Call for pricing. |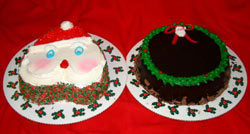 photo by Howard Wilson


Cookies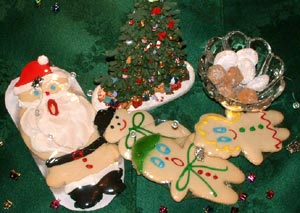 photo by Howard Wilson
| | |
| --- | --- |
| Tree, star, bell | Call for pricing. |
| Boys, girls, snowmen | Call for pricing. |
| Large Santa | Call for pricing. |
| Butternuts | Call for pricing. |
| Pfefferneuse | Call for pricing. |
| Honey Nuggets | Call for pricing. |
| Seasonal Tea Cookies | Call for pricing. |


Hard to Find Treats

| | |
| --- | --- |
| photo by Howard Wilson | photo by Howard Wilson |
| | |
| --- | --- |
| Marzipan (8 assorted) | Call for pricing. |
| Springerlee | Call for pricing. |


Special Hours for the Holidays
| | |
| --- | --- |
| Tuesday, 12/24, Christmas Eve | 6am-4:30pm |
| Wednesday, 12/25, Christmas Day | CLOSED |
| Thursday, 12/26 | CLOSED |
| Tuesday, 12/31, New Year's Eve | 6am-6:30pm |
| Wednesday, 1/1/14, New Year's Day | CLOSED |
| Thursday, 1/2/14 | 6am-6:30pm |

photo by Howard Wilson


Larson's Bakery, Deli and Coffee Bar
13411 SE Mill Plain Blvd.
Vancouver, WA 98684
Phone:360-253-4555
FAX: 360-882-6690
Click here to email
Serving the Vancouver (USA), Washington,
and Portland, Oregon, area
Home | Cakes | Wedding Cakes | Gift Trays | Danish Pastries
Cookies, Pies and more | Seasonal | Deli Menu | Coffee Bar Menu
Contact Us | Links